Dashboard
Every time you log into Padlet, you are greeted by the dashboard.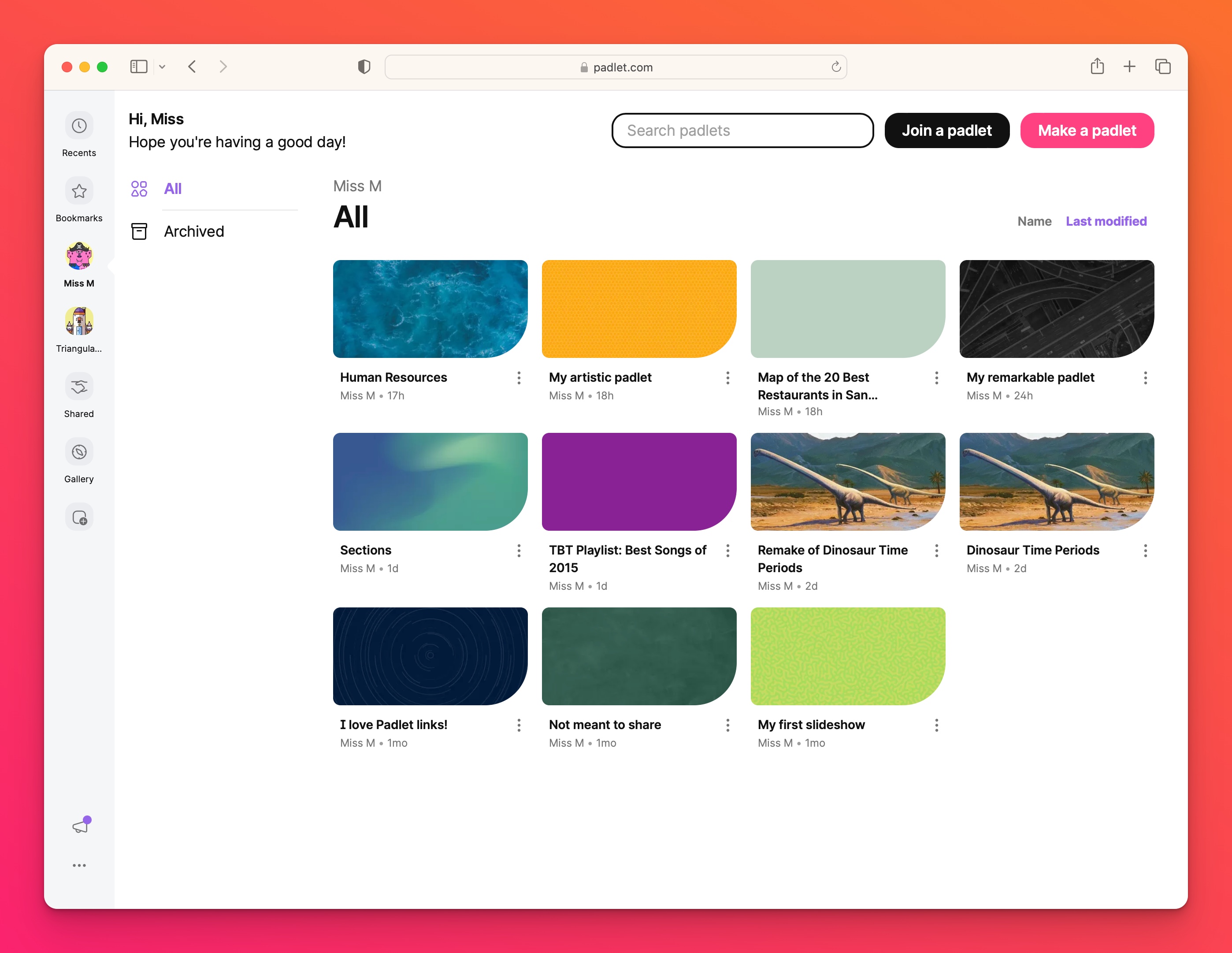 The dashboard is where you can find all of your padlets. Whether you created a padlet, liked a padlet, or just looked at one, your padlets live here. This is where you can make more padlets and learn about new Padlet features. Here is an overview of how to navigate the Padlet dashboard.
We will work our way through each tab on the dashboard starting with Recents at the top.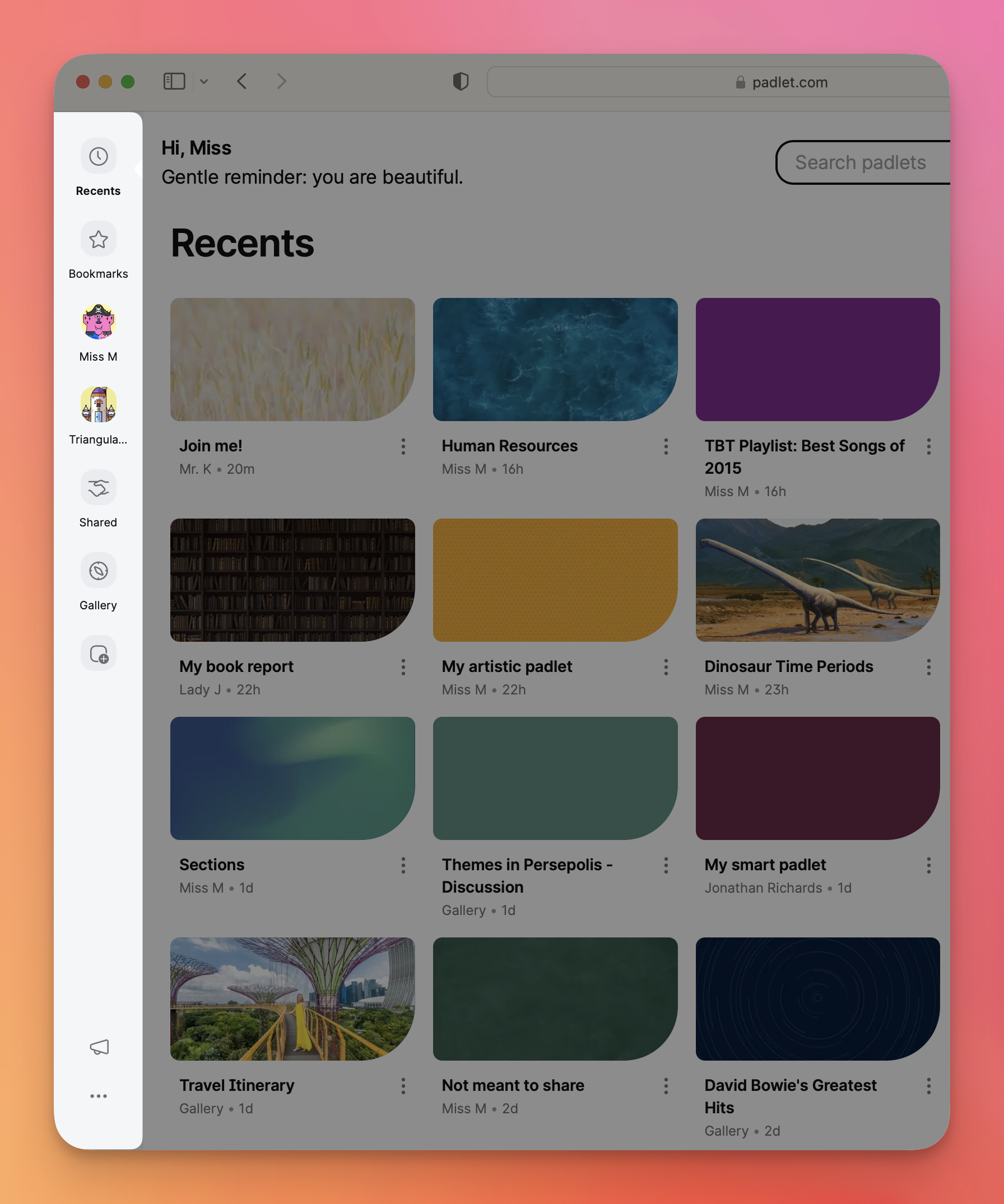 Recents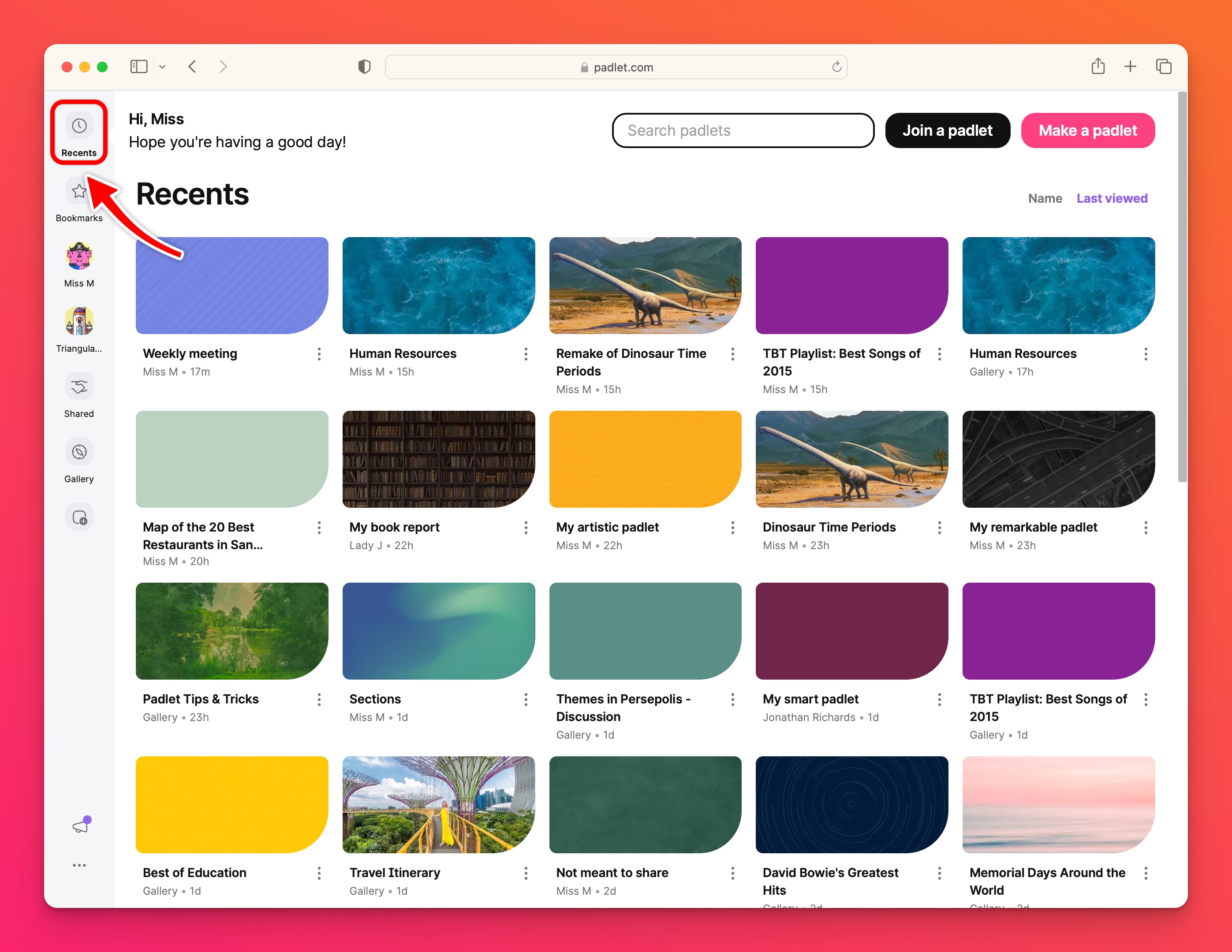 The Recents tab contains every padlet you've visited in the past 30 days. The padlets in this area will be displayed sequentially from left to right and top to bottom in the order that you last viewed them.
If you would like to remove a padlet from your recents, click the three dots (...) of the padlet you want to remove, and then click "Remove from recents."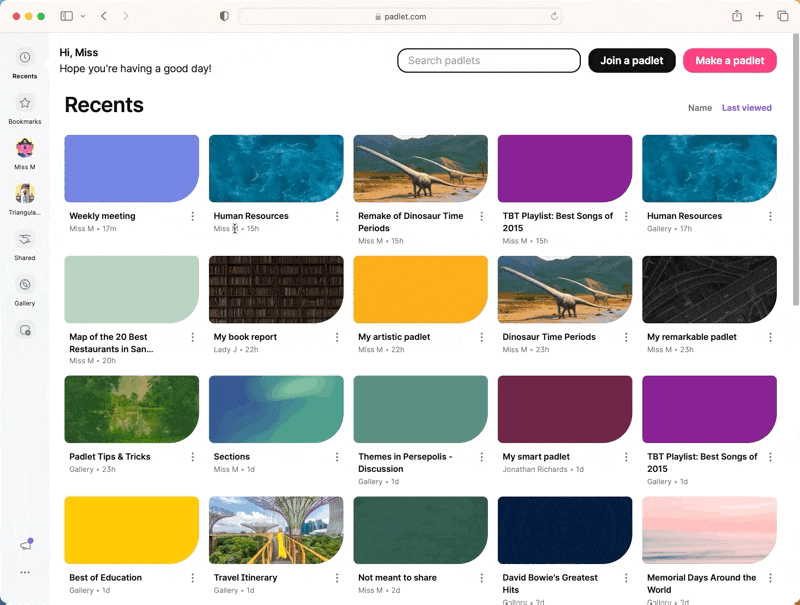 Bookmarks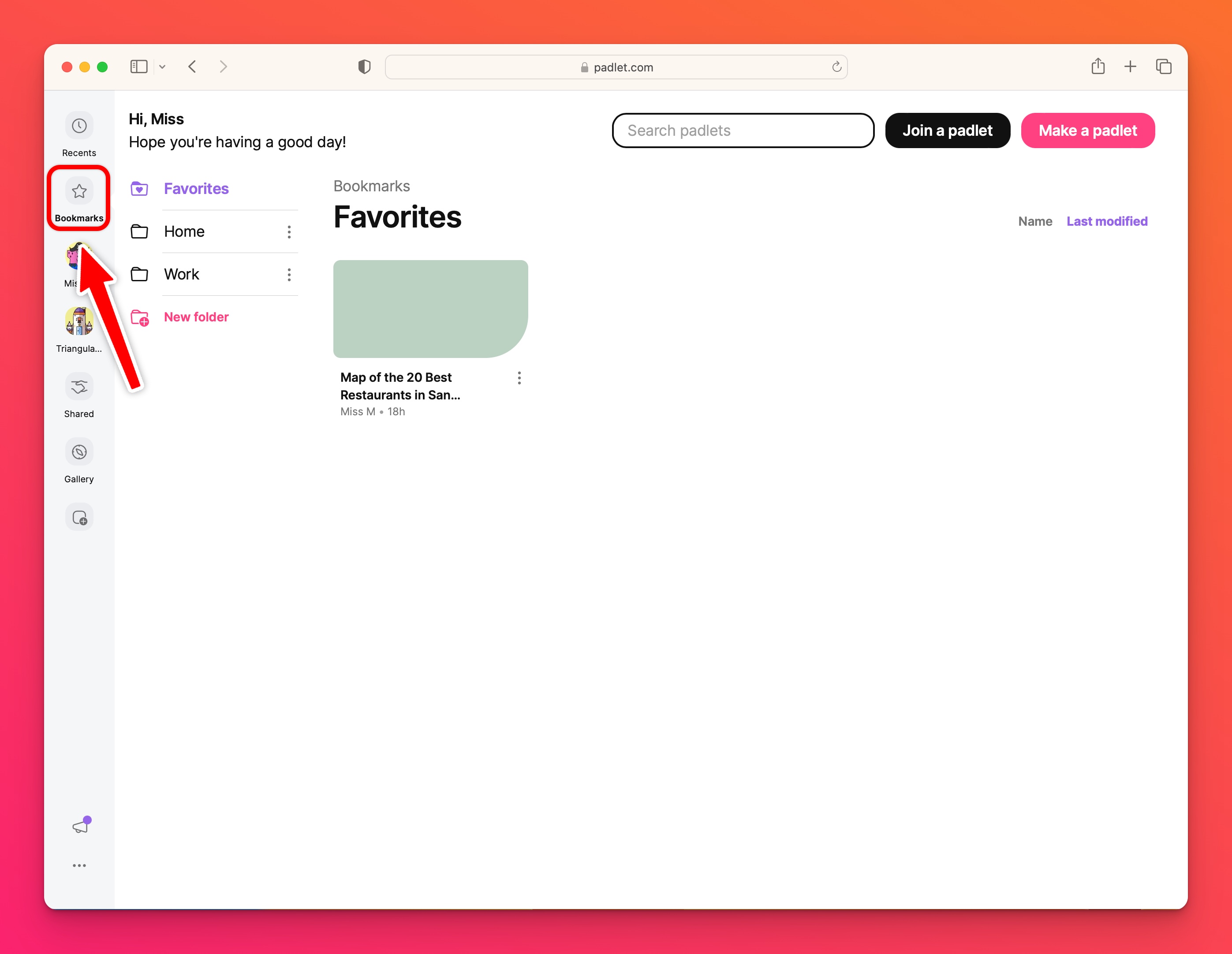 The Bookmarks tab is where you can add your favorite padlets and organize your padlets into folders. You can bookmark padlets from the dashboard or from the padlet itself.
Learn more about bookmarking padlets.
Libraries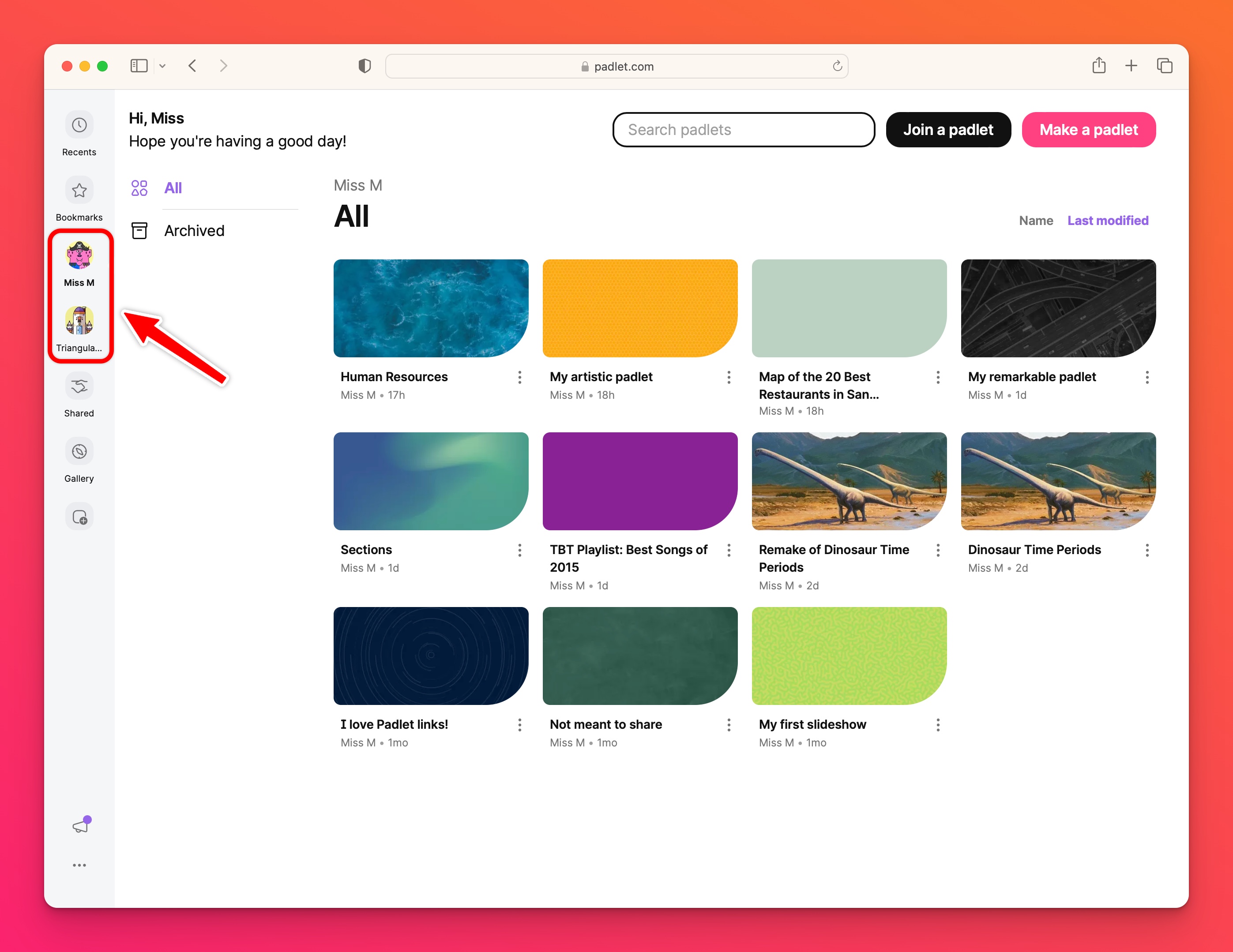 Libraries are the different spaces that your padlets can exist in. If you only have a personal account, you would only see one icon here. However, if you are a member of any teams, those would show up as separate icons here. You can navigate between these spaces or libraries to access any padlets you have created or that your team has created.
If you are a Backpack user, you will only see one icon.
Archive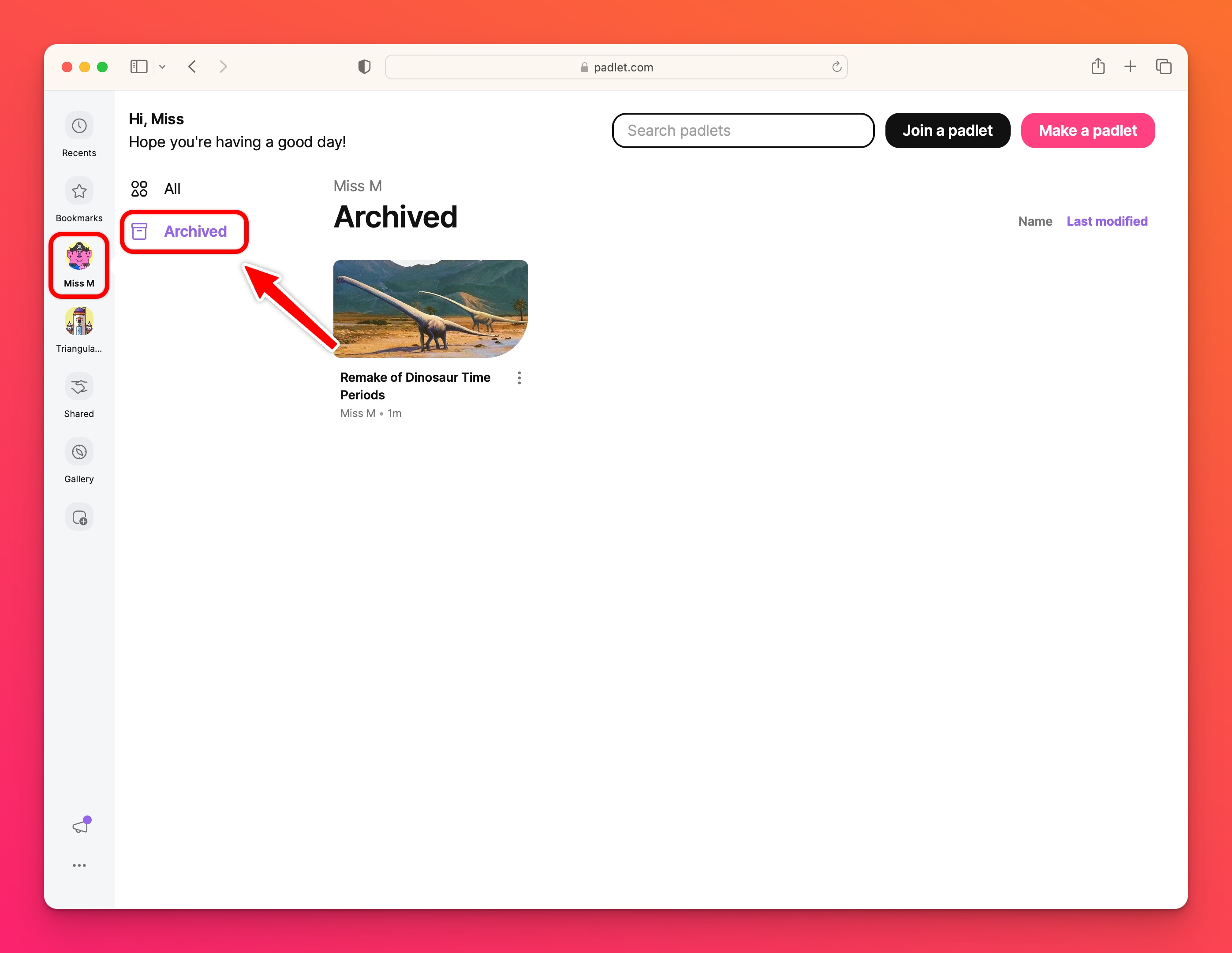 Within your libraries, there is a subfolder called Archived. This is where your archived padlets go. With a free plan, you are limited in how many padlets you can create, so archiving is a good way to free up space. You might also archive padlets to clean up your dashboard.
Either way, your archived padlets end up here. If you need to access the archived padlets again in the future, you can unarchive them from this area.
Learn more about archiving padlets.
Shared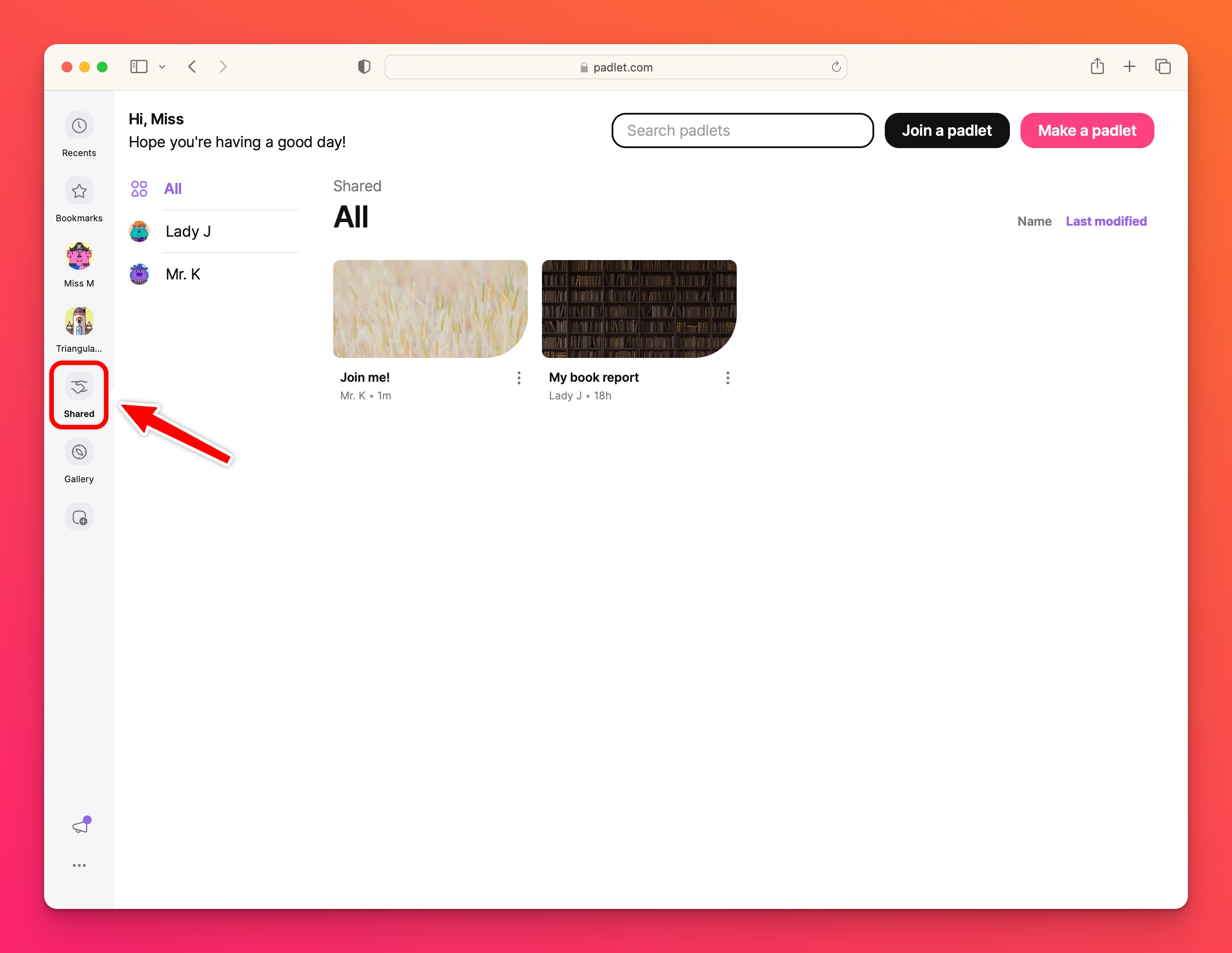 The Shared tab is where you can find padlets that have been shared directly with you. This means that another Padlet user has invited you to join their padlet by adding you via email or username.
You will see all of your shared padlets by default, but you can also click on a single user to view only the padlets that user has invited you to.
Learn more about sharing padlets.
Gallery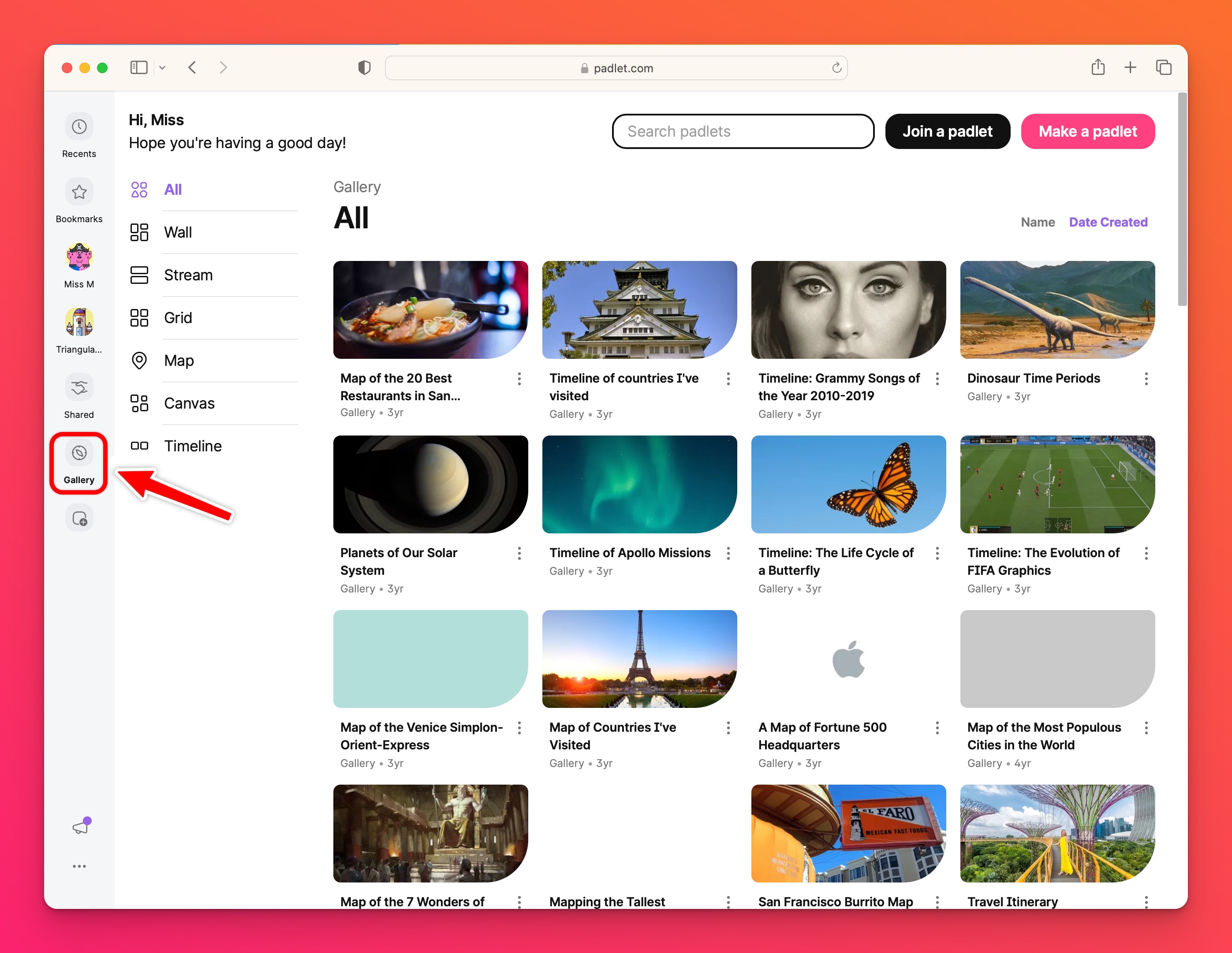 Need some inspiration for your next padlet? Look no further than the Gallery! In the Gallery, you will find examples of padlets that you can admire and use. If you want to make a copy of a padlet in the gallery, just open the padlet and remake it to make your own copy.
If you are a Backpack user, remaking gallery padlets will be a two-part process. First, remake the gallery padlet with your personal account at padlet.com. Then,
import the remade padlet
into your Backpack account.
Add new team
If you want to create a shared dashboard for your team, classroom, or business, you can create a team account. Just click the "Add new team" button to get started.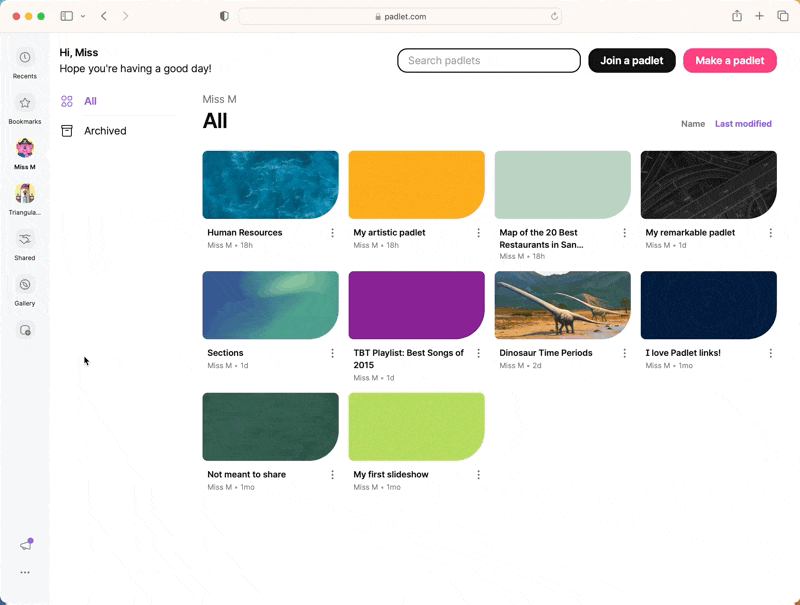 Announcements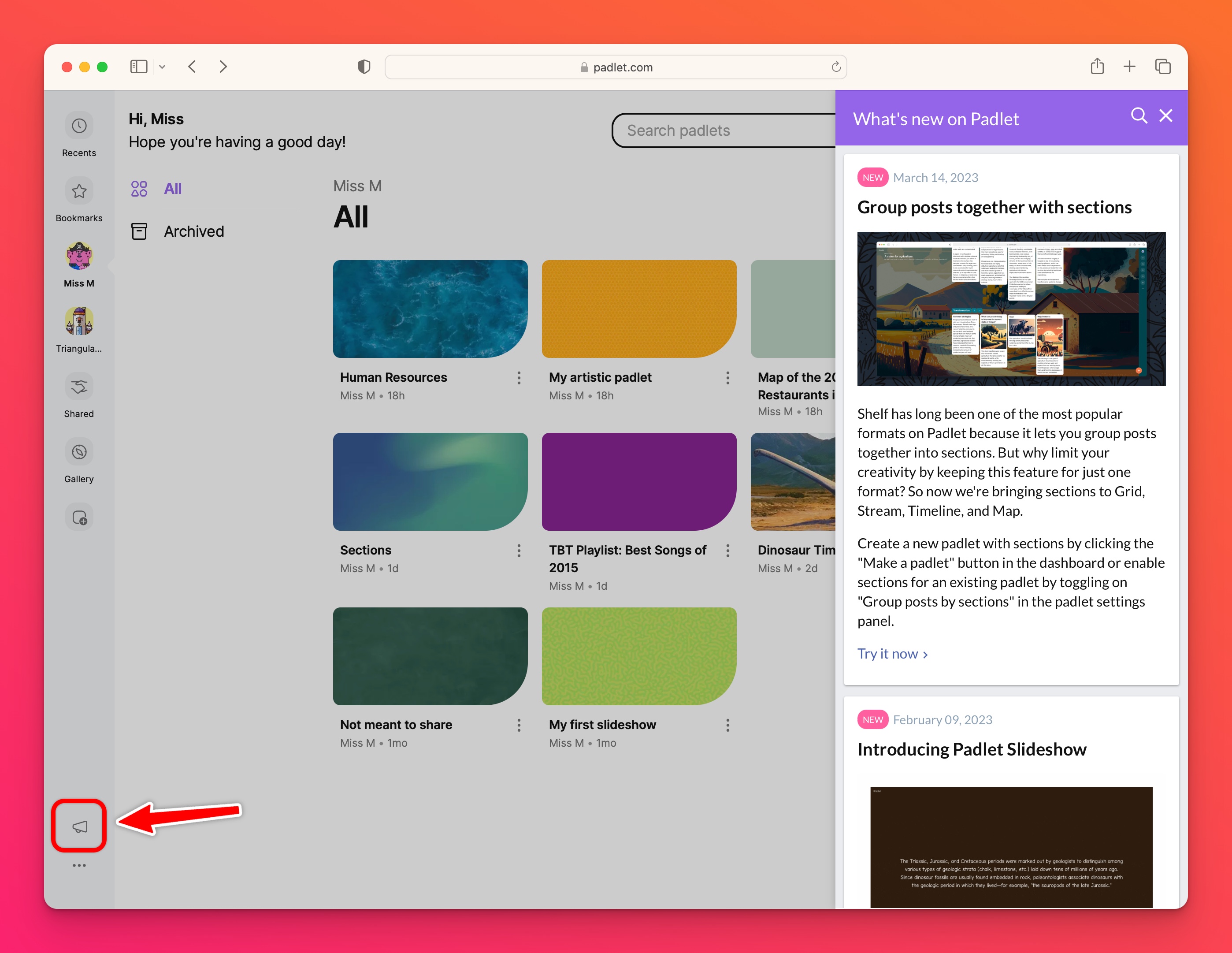 Whenever we launch a new feature or roll out any updates, we add them to our announcements feed. Click the megaphone icon to see the latest Padlet news.
User menu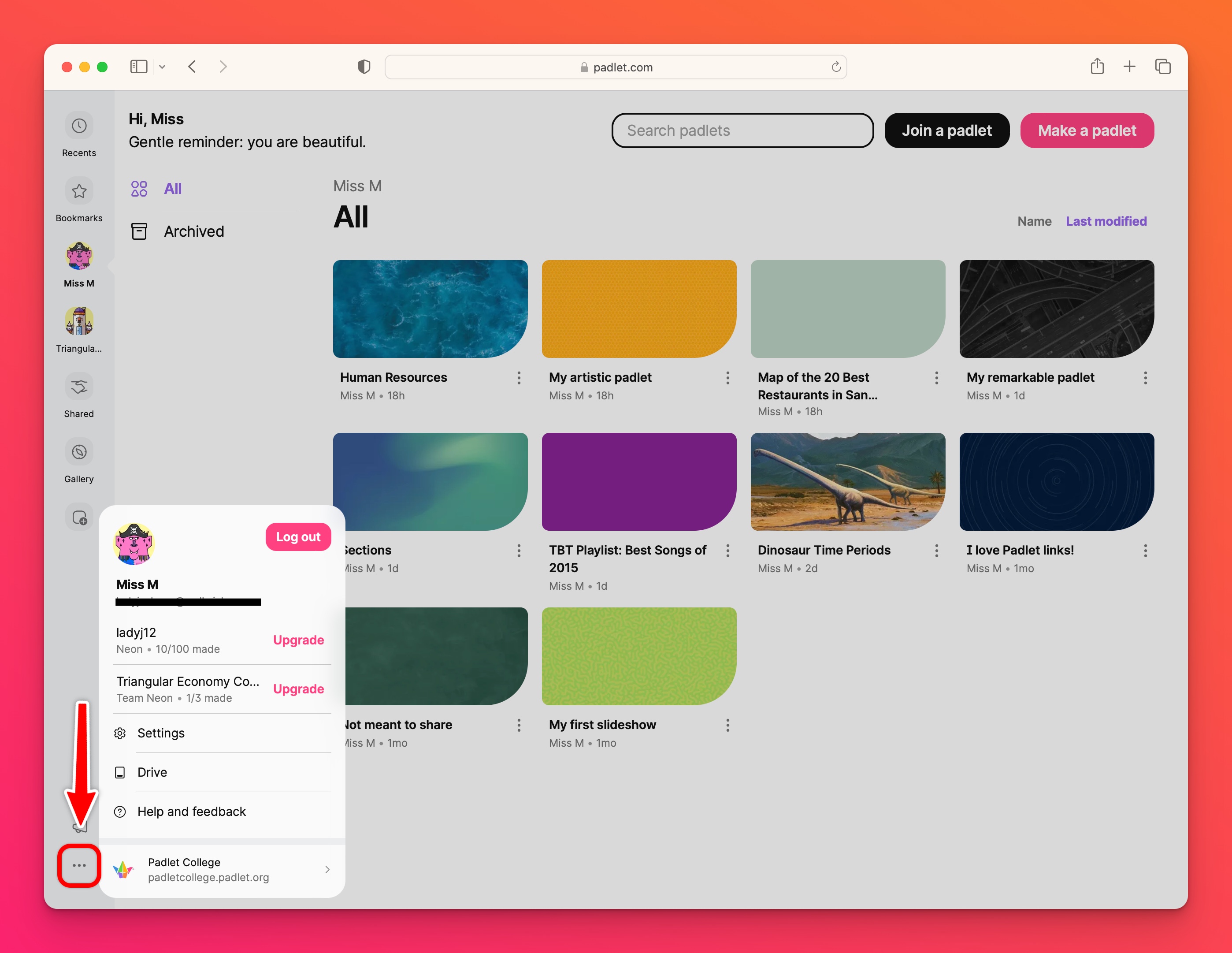 Indicated by three dots (...), the user menu is where you can log out of padlet, access your account settings, and seek help.
If you are a member of a Backpack account, you can also navigate to your Backpack account through this menu.
Search, join, and make a padlet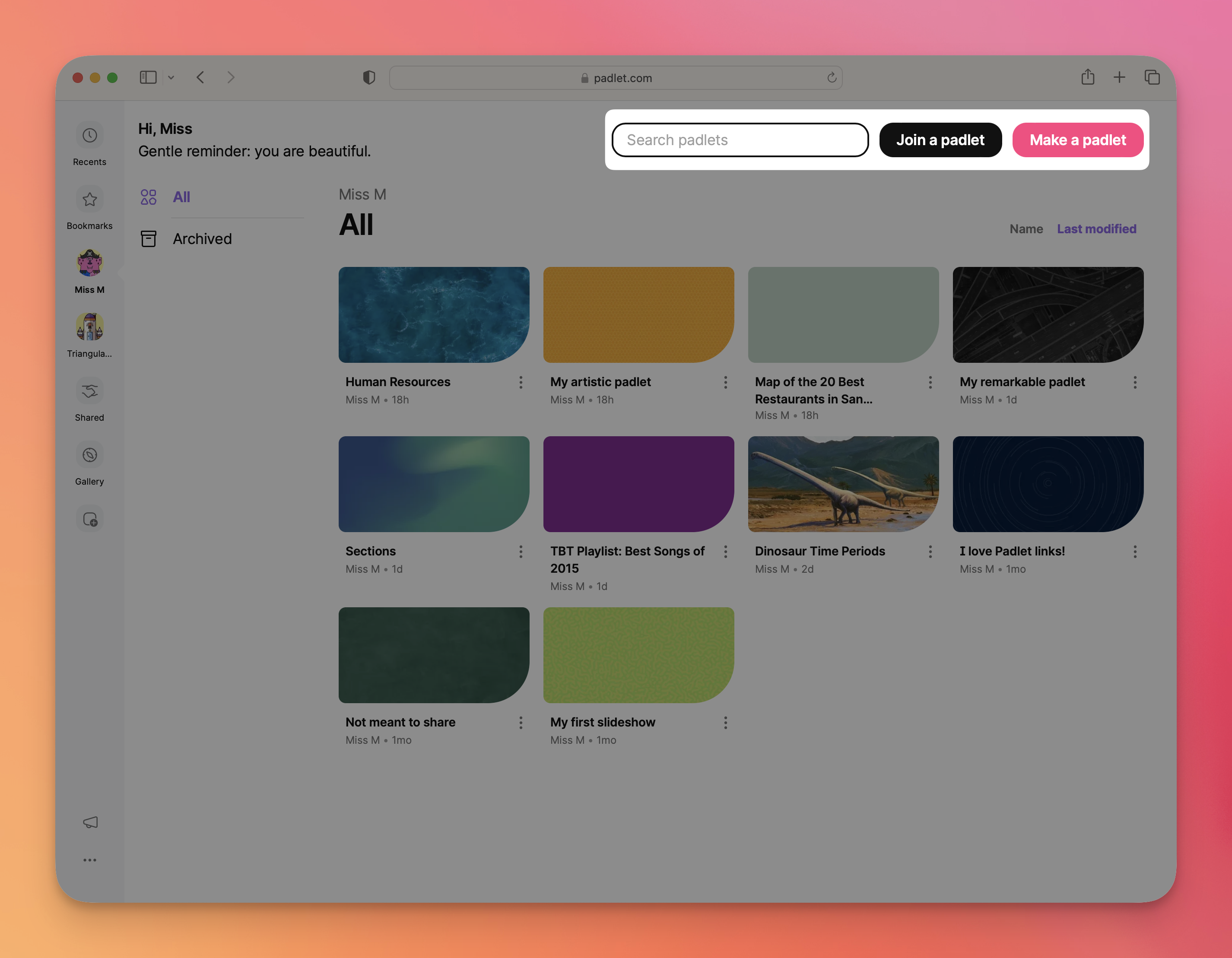 Last, but certainly not least, there are features at the top of the dashboard.
First, you can use the search bar to search through your padlets. Currently, we support searching by padlet title.
Next, you can join a padlet. If you have the URL of a padlet that you would like to access, you can click "Join a padlet" and enter the link in the field. You can also navigate to padlets directly in your browser.
Finally, you can make a padlet. When you click "Make a padlet," you will be prompted to select a format. Then you can get creating!
Learn more about creating padlets.
FAQs
Why can I see someone else's padlets on my dashboard? Will these padlets affect my quota?

Your Recents tab includes all padlets you have looked at in the last 30 days, which could include someone else's padlets.

If you have bookmarked another user's padlet, it will show up in the Bookmarks tab.

The Shared tab displays padlets that you did not create but that you have been invited to collaborate on via email.

These padlets will not affect your quota if you have a Neon or Gold plan.
Can I remove a padlet from the Shared section?
Where are my folders?

Folders have been replaced by bookmarks.
---
---