Gallery templates
Welcome to the world of pre-made templates - just for you!
You have an idea of what you want to create but just don't know where to start. We get it. Nothing is more frustrating than staring at a blank virtual piece of paper with no idea how to get your ideas from your head to your fingertips.
We're here for you, friend!
Accessing templates from the gallery
From your dashboard, click on the pink Make a padlet button in the upper-right corner of the page. From there your panel will open to reveal options for:
Blank board - creating a padlet from scratch
Your templates - templates you've created yourself or been invited to
From the gallery - pre-made templates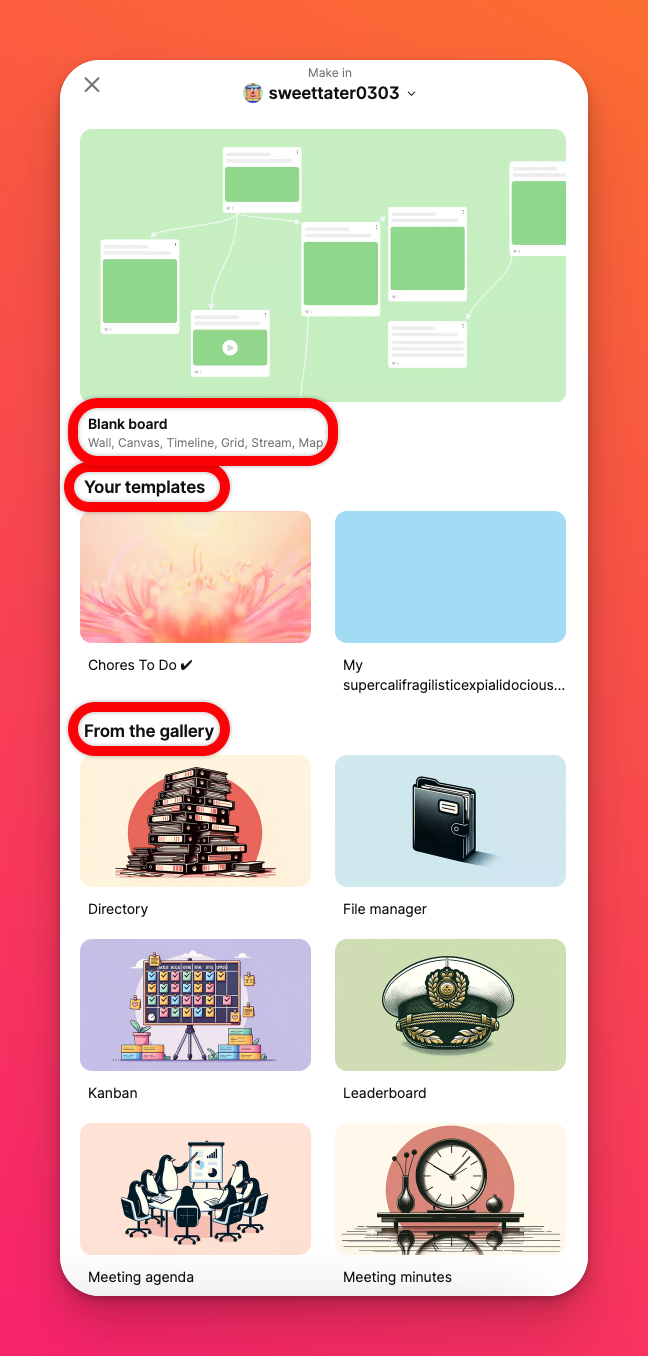 Under the gallery you will find over 100 pre-made templates for anything you could possibly imagine! These will range from general templates to creations made for an educational setting. Take a look at your options and pick what best suits your needs.
Make sure to indicate which account you want to create your padlet in at the top of this panel.
Using a gallery template
When you click on the gallery template you'd like to use, a slightly pre-made padlet will be displayed. On the right side of the padlet you'll see an onboarding panel that will guide you through how to set up and use this template.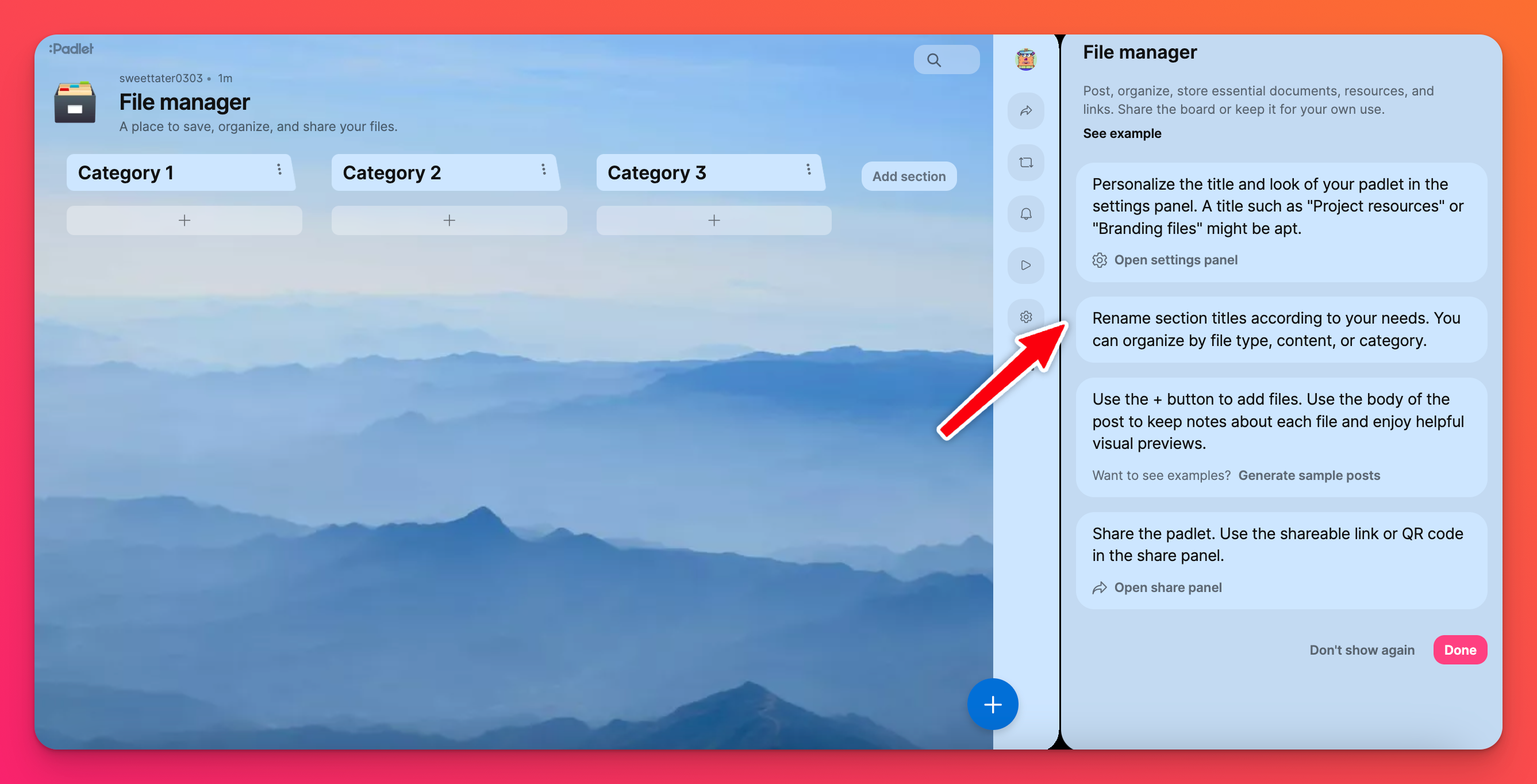 To see a real use case of this type of template just click on See example in the onboarding panel. This will open an example padlet in a new tab. The rest of the onboarding panel walks you through steps you can take to make the most of your padlet, making a personalized, unique creation!
Note the buttons under some steps that will direct you to the exact location needed to perform these steps.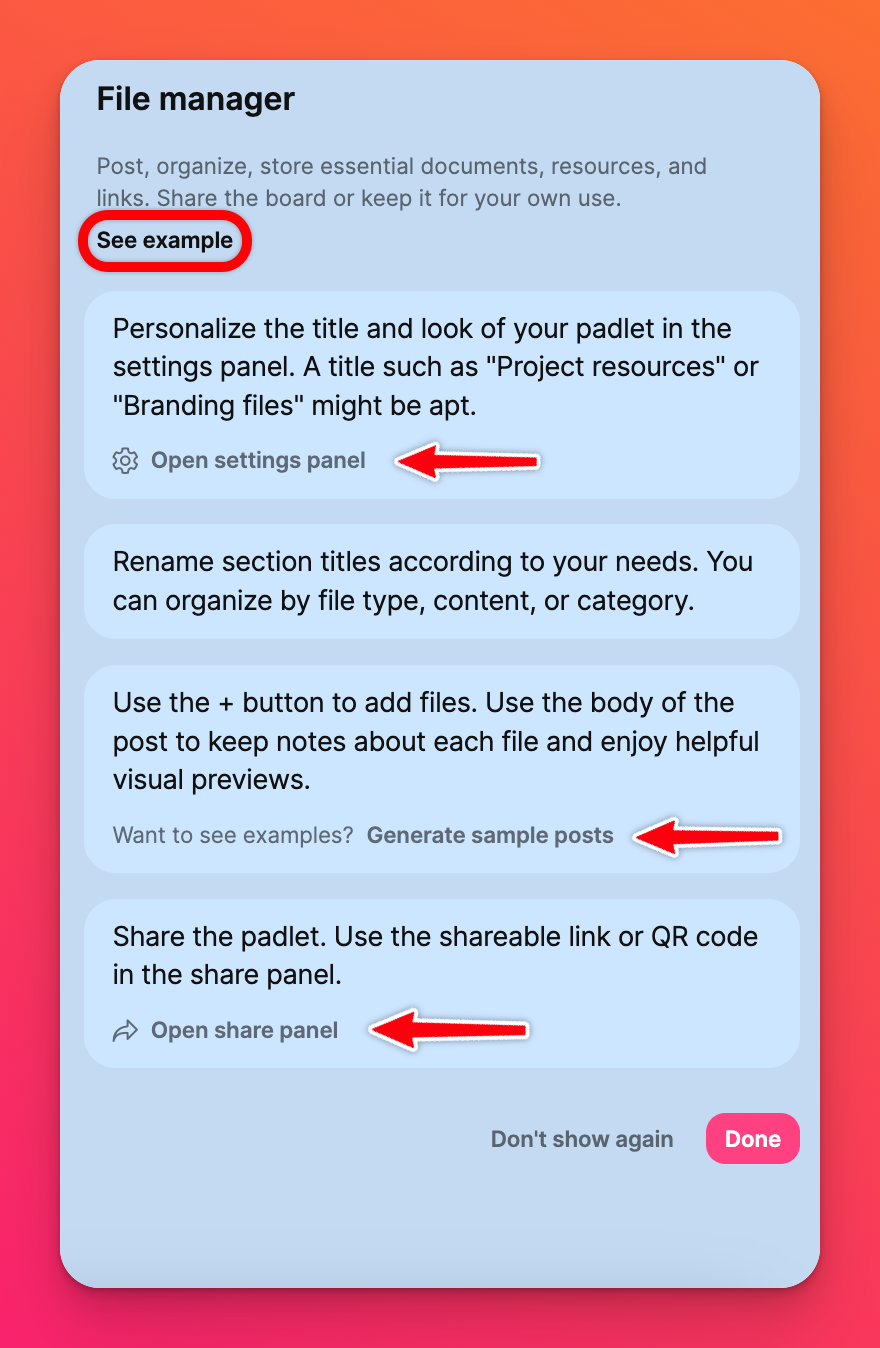 Once you have completed all the steps (or simply don't need to see the panel anymore) click Done!
Clicking Done will hide this panel temporarily until you make another padlet from a template in the gallery.
Clicking Don't show again will hide the onboarding panel indefinitely for this template type. Keep in mind, next time you make a padlet from this template style, the onboarding panel will not launch.
FAQs
I only see a few gallery templates. Where are the rest of them?

If you cannot see all of your templates it may be because you're not listed as a school user on your profile. To change this, click the three dot ellipsis button (...) in the bottom left corner of your dashboard > Settings > Basic info > click the pencil icon next to Account type and change to Student, Teacher or School staff.
I clicked on Generate sample posts in the onboarding panel and now I want to delete them. Do I have to manually delete them all?

Nope! All you have to do is click on Delete in the same place you clicked Generate sample posts within the onboarding panel. Poof! Gone.
---
---