Padlet settings menu
Padlets can be customized in a number of ways by adjusting the settings. Learn about how to access the settings menu and what features you can enable!
Accessing padlet settings
To access your settings menu, select the button with the cog icon from your action bar.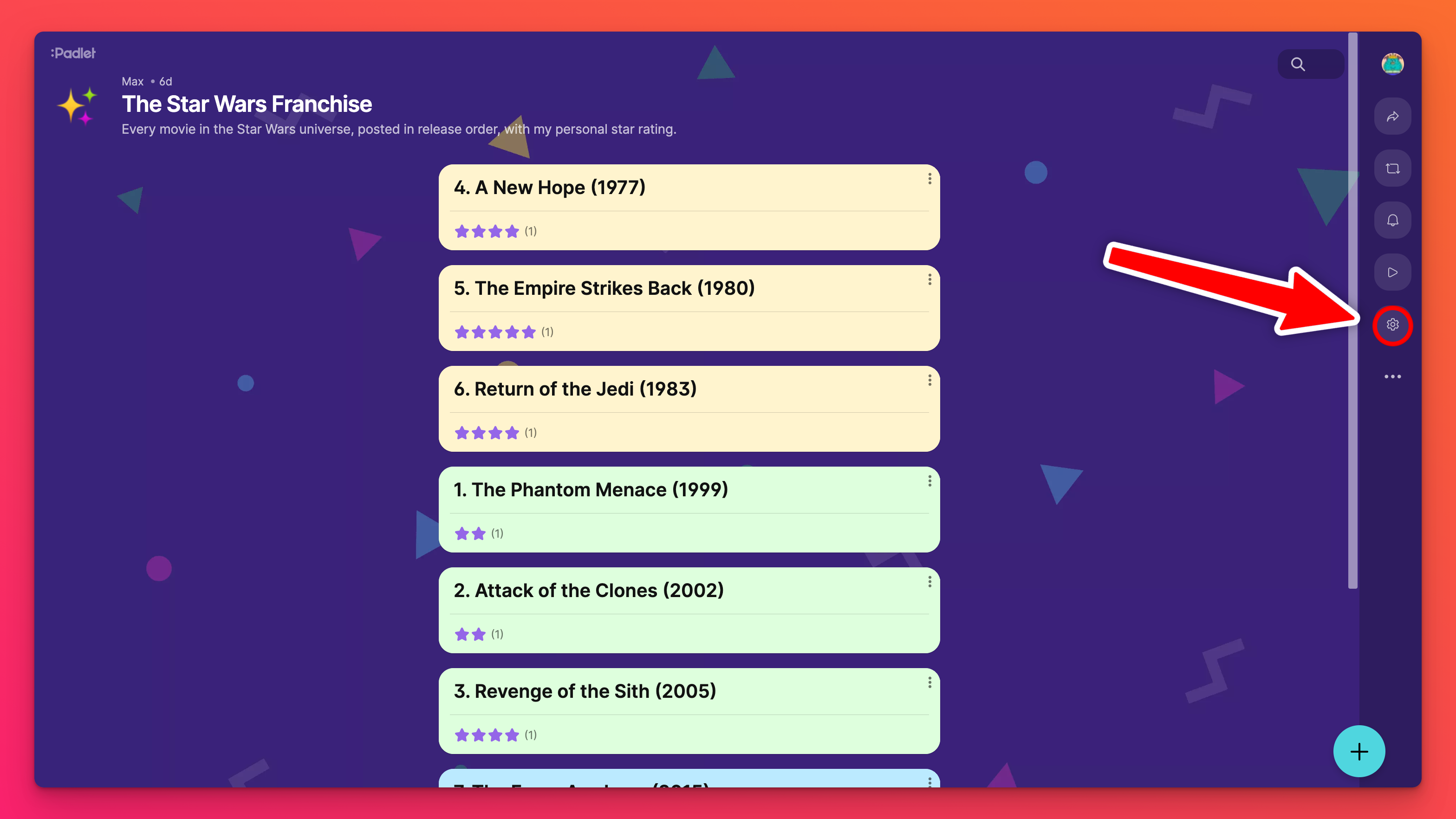 The settings menu allows you to control all of the aesthetic and functional elements of your padlet.

This includes your padlet's appearance, layout, posting rules, content rules, and URL. Here is a summary of everything in the settings menu.
Heading
In heading, you control your padlet's title, description, and icon. These three elements will appear in the top right corner of your padlet.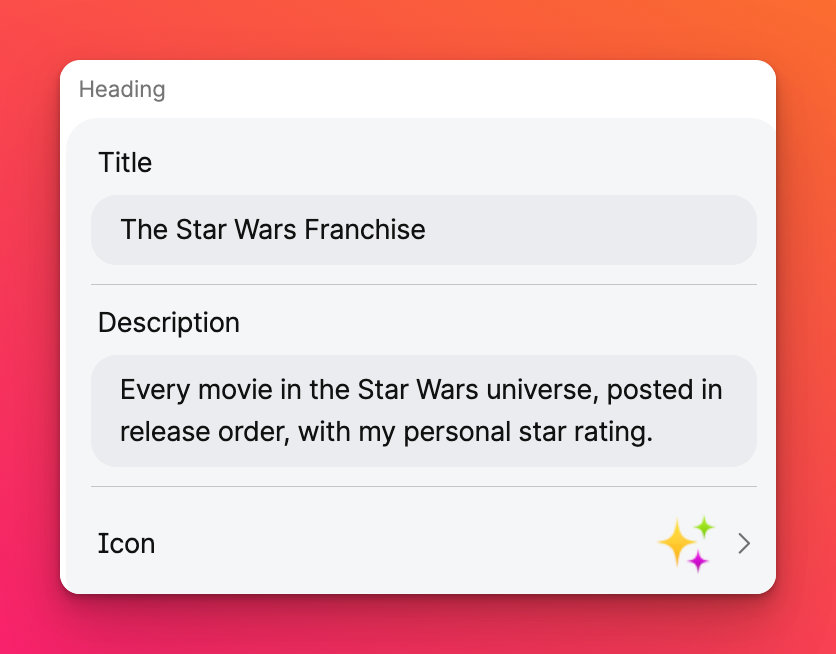 The title will appear in your padlet's URL and will be the title of your presentation if you generate one with Slideshow. The selected icon will be the padlet's favicon, meaning the little image on your browser tab.
Appearance
In appearance, you control your padlet's wallpaper, color scheme, and font.
Padlet provides a litany of wallpaper options divided into categories such as plain colors, gradients, patterns, and illustrations.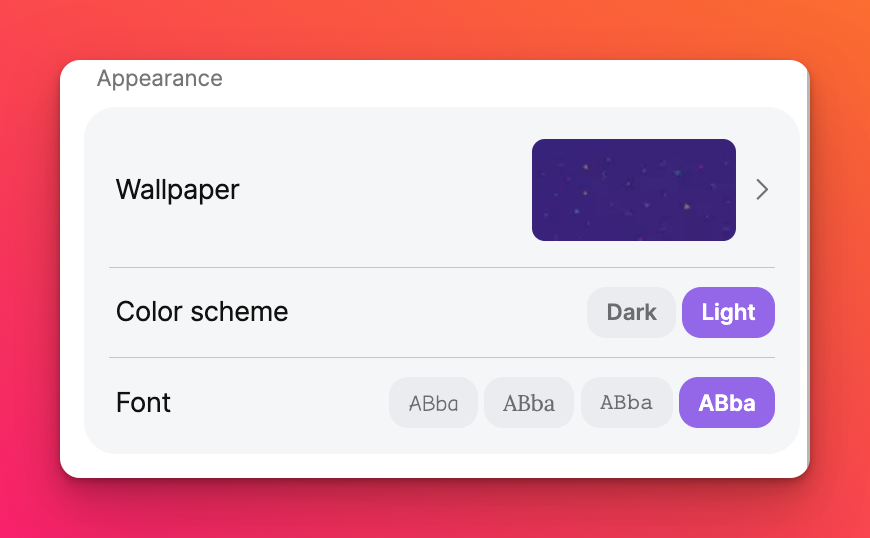 You can also input your own custom wallpaper but it is advised that you use a Padlet-provided wallpaper because we can guarantee they will all be beautiful and certain wallpapers will apply unique accent colors to the buttons and fonts on your padlet.
The color scheme determines the generic color of posts and four tried and true basic font options are provided.
Layout
In layout, you have the ability to toggle sections on and off. Sections allow you to group posts by category and provide a extra structure for your padlet.
You also control how your posts are sorted. There are automatic sorting options and manual sorting options. Learn more about sorting here.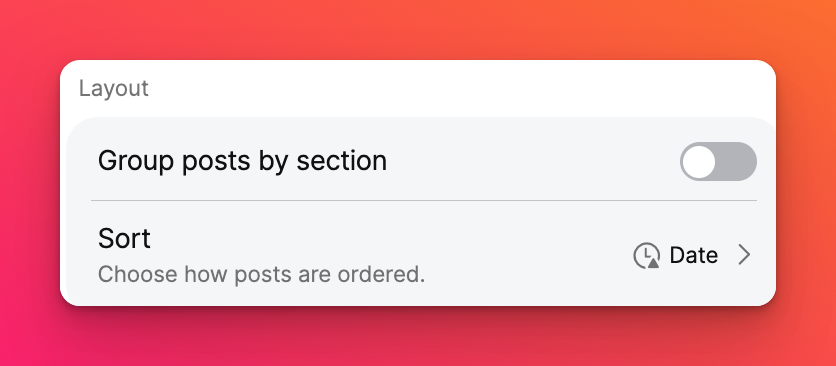 Sections are not available in the canvas format.
Posting
In posting, you control the rules for new and existing posts on your padlet. If you toggle 'Author and timestamp' on, posts by users with accounts will display the author's name and post timestamp. Posts by users without accounts will appear as anonymous.
If you turn on 'Author and timestamp' after posts have been made, the author and timestamp information will backpopulate to posts. Feel free to toggle on and off without losing information.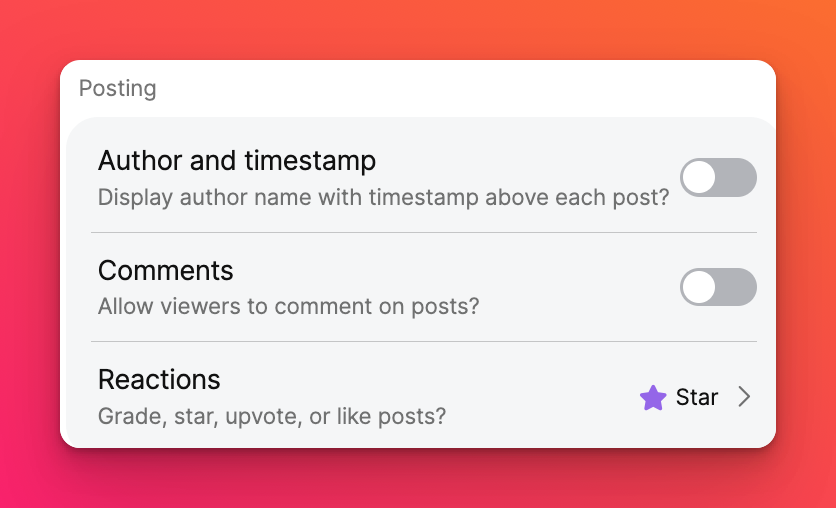 You are also able to toggle whether users can comment on posts, whether reactions can be applied to posts, and of what type.
Content
In content, you are able to toggle whether posts should require moderator approval. If toggled on, if a user tries to post on your padlet it will only appear after you or another moderator on the padlet approves the post. You can invite other users to be moderators on your padlet from the Share menu.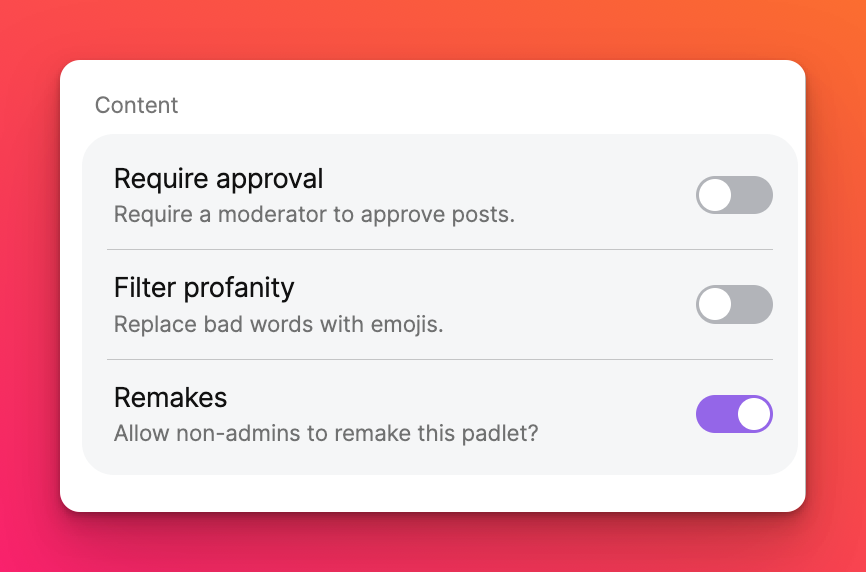 You are also able to toggle profanity filtering. If toggled on, bad words will automatically be converted into emojis.
You are also able to toggle whether other users are allowed to remake your padlet. When a user remakes a padlet they can copy all posts or simply the title, wallpaper, and setup.
Advanced
In advanced, you are able to establish a custom URL for your padlet. You can name it anything you want!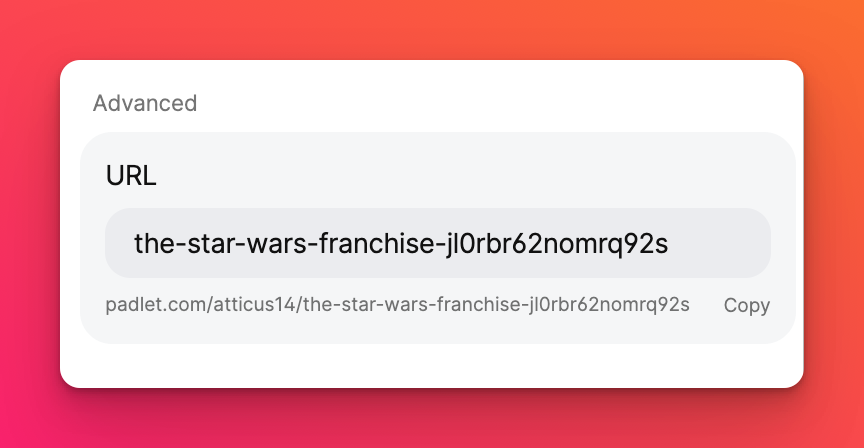 Note that when you establish a custom URL, the URL that appears when you view the padlet will not change. However, the custom URL will still send users to your padlet.
---
---